Come To Our Long Island Turbo Engine Repair Shop
Long Island Turbo provides the best in OEM and high-performance diesel turbocharger services, which includes work on skid steer turbochargers! Our overall turbocharger services range from re-manufacturing, upgrading, rebuilding, and repairing turbo engines. When we work on the turbocharger, only the best hands are on it. So you can ensure the skid steer turbochargers we repair and remanufacture have a long-lasting lifespan. Let's learn a little more about a skid steer, how they are used, and how turbochargers are crucial to their ability to operate.
What Are Skid Steer Turbochargers?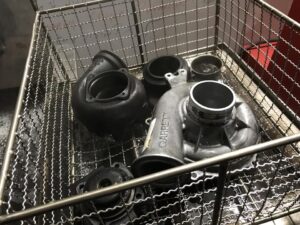 Many of the turbochargers we work on are of the diesel or marine variety. However, skid steer turbochargers are also an engine that our staff is familiar with. A skid steer is a small, yet versatile piece of construction equipment contractors and landscapers use for digging. It is light and easy to maneuver and has arms that can attach a wide range of tools for various construction and landscaping jobs.
A skid steer is very popular for its ease of use and is in high demand. And when the skid steer's turbocharger engine fails, it can put entire jobs at risk and delay the completion of a project. If that happens, you can trust Long Island Turbo's team to repair the turbo engine and get your skid steer back up and running.
Uses for Skid Steer Turbochargers

What makes a skid steer popular among contractors and landscapers is the amount of attachment options possible. Due to this feature, the skid steer can complete a wide range of jobs. A bucket is the standard attachment piece for this equipment. This bucket is used for lifting and moving of heavy materials. A common task for those using this equipment. But you can easily replace it with any number of alternatives and have the skid steer still function at a high level. And produce a better efficiency.
Here are some of the common uses you will find for a skid steer. And remember, turbochargers keep the skid steer running at an efficient level, so you want the best engine in order to stay productive!
Construction
You will see this piece of equipment most commonly used for building and construction projects. On top of having the bucket to move stuff around, contractors may attach a cement mixer or pavement miller to help with other tasks.
Landscaping & Farm Use
Many landscapers have a skid steer in their repertoire of equipment. It offers useful attachments such as a stump grinder, wood chipper, tree spade, and trench digger. So for big landscaping projects, this equipment can get many different tasks done. And many farmers use a skid steer too, since it can help with a variety of daily tasks.
Trenching and Digging
The skid steer has a variety of digging attachments, like the backhoe, trench-digger, and auger. The auger operates like a corkscrew to burrow a precise hole. Contractors and landscapers alike use a skid steer for various trenching and digging applications.
Snow Clearing
When it comes to the winter months, you can attach a bucket to your skid steer and effectively clear snow. Primarily you will find this equipment moving snow in giant parking lots, as it is a common piece of equipment to have just for this scenario. Comes in handy when it snows and you do not need to wait for a plow to come by.
Excavating
Excavation work is also another important task a skid steer can accomplish. When you use it for a job like this the attachments that work best are a ripper, tiller, trencher, or wheel saw.
Use in Warehouse & on Farms
And finally, we come to using a skid steer in a warehouse. For this, users attach pallet forks and bale spears which make it useful for many crucial warehouse tasks. Similarly, using a skid steer on farms is another way of utilizing this piece of equipment.
Repair Services for Skid Steer Turbochargers
For professional turbo replacement and repair services, turn to Long Island Turbo! We can handle working on turbochargers for many different types of vehicles and equipment, including one for use on a skid steer. From installation to rebuilding, our turbo engine pros will effortlessly get the job done right. And we have the ability to procure any turbo repair parts we do not already have.
For more information about our various turbo engine services, please reach out to us today. We will happily answer any questions or concerns you may have about all that we have to offer. Do not hesitate to give us a call at (1-833- LI-TURBO). When you call our shop, we can go over exactly what you need.